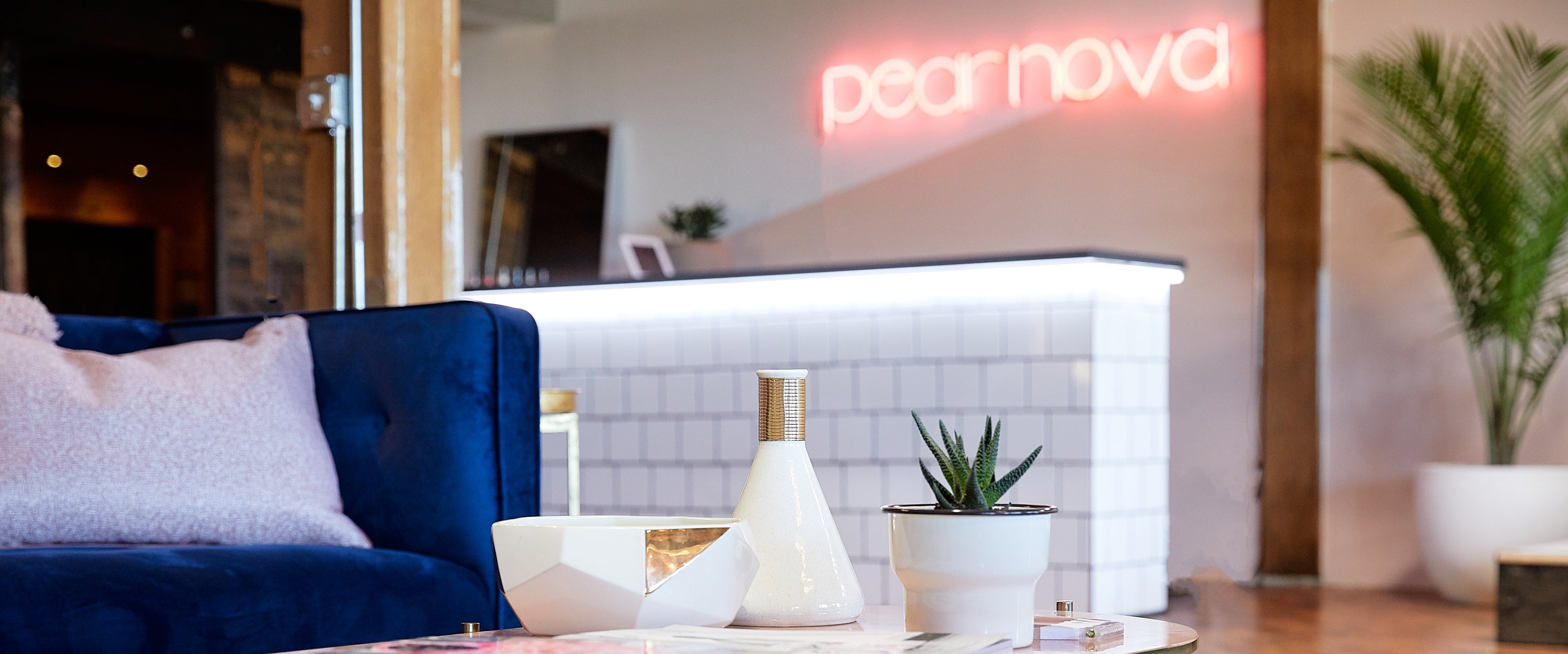 About Us
CREATED WITH LOVE……
Pear Nova was born in December 2012 in Chicago, IL at the intersection of fashion + beauty. A product of founder Rachel James's love for art and passion for elegance, the brand draws inspiration from world wonders, runway designers, and remarkable women. 
NURTURED THROUGH EXPERIENCE….. 
Since its incorporation, Pear Nova has expanded + diversified while remaining true to its mission: to celebrate all skin tones while creating healthy, luxury nail products. Pear Nova now offers self-care products in addition to nail care, and Pear Nova Studio opened its doors in 2019 creating a physical space for women to feel safe, pampered, and beautiful. 
INSPIRED BY WOMEN EVERYWHERE…..
Earning recognition from Allure, Essence, Harper's Bazaar, Marie Claire, Vogue + The Oprah Magazine, Pear Nova's journey is coming full circle – but is far from complete! Forged from the inspiration of female pioneers and with the desire to continue to care for women, Pear Nova is once again merging worlds: self-care + holistic beauty. 
We are still vegan, cruelty-free + 10 free. 
We still celebrate all skin tones. 
And we are still inspired by women of every era, realm + walk of life.




MEET THE FOUNDER
The Universe has long been preparing Rachel James for her role as CEO + Founder of Pear Nova. "I've always been obsessed with nails," she explains. "I used to give my mother manicures and pedicures when I was in grammar school." Though the serial entrepreneur is years removed from that time, her ambitions remain the same: to build a global beauty brand that celebrates all skin tones while creating healthy, luxury nail + self-care products. 
Ms. James founded Pear Nova in December 2012 in Chicago, IL upon the completion of her formal studies at the International Academy of Design and Technology. Armed with a degree in fashion merchandising, a background in beauty, and a plethora of life experience, she embarked upon a journey to create a luxury product that would sit at the intersection of beauty + fashion. She noticed a void in the representation of medium to dark skin tones in the nail world and committed to bridging that gap. 
"I get a lot of questions about how I came up with the name," she recounts. Inspired by her appreciation for nature and her forever sister–in–love, Nova Henry, Rachel used artistic expression to honor the striking similarities between the Nova Pear tree and her guardian angel, Nova. "The Nova Pear tree is known to withstand any temperature, and I always looked at Nova that way… she was so strong and the woman I wanted to be like." Like Nova, Rachel is an amazing mother of two and remarkably resilient. 
"I hope my children learn by watching me that the sky isn't the limit, that their power is immeasurable, and that they have my full support in trying new things that may be of interest to them." Undoubtedly, through witnessing Rachel forge Pear Nova from sheer inspiration and hard work, open Pear Nova Studio as a safe space for women in 2019, and continue to create high–quality content and merchandise, we have all been inspired. 
Rachel's passion for learning is fueled by her love for traveling, reading, exploring, writing + creating. A natural artist, innovator, and leader, she continues to set goals for herself and her company. "I'd like to see Pear Nova expand into self-care and grow exponentially, and I want to continue to inspire and be inspired by extraordinary women." No goal is out of reach for Ms. James, whose company was named one of Oprah's Favorite Things in 2020.
As her brand continues to evolve + diversify, Rachel looks forward to the future of Pear Nova. She wants to create more luxury nail care and self-care products while encouraging women everywhere to indulge in elegance. She plans to continue supporting the causes she holds dear, such as domestic violence awareness and female empowerment. She intends to keep inspiring and being inspired by phenomenal women. And she hopes to enjoy every step of the journey.